Browsing articles in "Technical Tips"
About once a year, I go through the steps of completely uninstalling Firefox, deleting associated folders, and reinstalling the browser. This has an amazing impact on the performance of the product.
Even though the settings in Firefox are to not send any information to Mozilla, or retain data, a large number of files are being collected in the AppData folders.
In Firefox version 35, Mozilla added a feature called the "Hello Chat Video Service", in the form of a button the toolbar. Around the same time, several of my favorite extensions began having compatibility problems with Firefox. To restore functionality from these extensions, I decided to downgrade to a lower version of Firefox.
PDF Article Here
This document addresses two problems that can be resolved by updating the Application Manifest file for programs that are distributed to post-Vista Windows platforms:
1) The deprecated Windows version numbers returned by GetVersion API calls in Windows 8.1
2) The annoying Program Compatibility Assistant's "this program might not have installed correctly" warning messages
PDF Article Here
An example solution manifest file can be found here , or visit the Downloads page on this blog.
One of the challenges when dynamically modifying emails created from Outlook templates, is retaining the original html formatting of the template itself.
This article discusses how to retain the original html formatting of the template, when additional text is added. The example code uses Visual Basic 6, but the concepts are applicable to other languages accessing Microsoft Outlook through the COM environment.
PDF Article Here
Unicode Symbols can be used in Email subject lines, messages, and in some cases, other fields. This article discusses ways to use these symbols in batch generated messages.
PDF Article Here
To test the technical preview of Windows 10, I followed the instructions at Petri Windows 10 how-to to safely install the preview inside of a Virtual sandbox environment. One important note is to not add Virtual Tools to the VM environment until after Windows 10 has been installed. Otherwise, Windows 10 may encounter problems locating device drivers during the setup phase. Although Petri's guide refers to Workstation 10, Workstation 11 can be used.
A 30-day trial version of VMWare Workstation can be downloaded here – VMWare Workstation Download Update: VMWare Player may be a better choice for most users, since it isn't limited to a 30-day period. Download VMWare Player here
The ISO file download from Microsoft for Windows 10 can be downloaded here – Windows 10 Download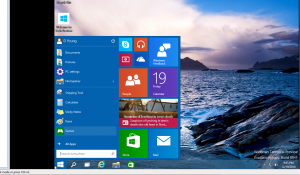 Oracle VirtualBox is also available as a VM environment for running Windows 10. My attempts to install the technical preview within VirtualBox, were not successful.
One of the items that annoyed me in Internet Explorer 9 / Windows 7, is that the toolbar (CommandBar) is set to appear with small-sized buttons.
PDF Article Here
The listed registry update commands, placed in a .reg file will force IE to:
to use large buttons for the current user account
To show the toolbar/commandbar, if it currently is not showing
To show the menus at the top (File  Edit  View  Favorites  Tools  Help)
The machine settings default to use small buttons.  These can be changed using either the Registry Editor, or via a .reg file.
The Current User settings override the local machine for Internet Explorer.  Internet Explorer has to be restarted, or a New Session selected from the File Menu, before the changes appear.
These are the values to insert in a .reg file, or adjust via REGEDIT.  By setting SmallIcons to zeroes, it causes IE to display the large buttons.
[HKEY_CURRENT_USERSoftwareMicrosoftInternet ExplorerCommandBar]
"SmallIcons"=dword:00000000
[HKEY_CURRENT_USERSoftwareMicrosoftInternet ExplorerMINIE]
"AlwaysShowMenus"=dword:00000001
"CommandBarEnabled"=dword:00000001
Microsoft has undergone several phases of security updates on Windows 7, that make it impossible to open a custom .chm file through the Windows Shell, using hh.exe with a passed filename parameter.  This forces the developer to use the ActiveX object version of html help, hhctrl.ocx.
PDF Article Here
This is a list of steps to take if you want to install both a Visual Basic 6 IDE and Visual Studio on a Windows 7 machine. It worked well last year with the 32-bit version of Windows 7. I credit multiple sources with links at the end of the document. Unfortunately, I was not able to make this work with the 64-bit version of Windows 7.   PDF Article Here
There are differences between VB6 Service Pack 5 and VB6 Service Pack 6 – the file editing for sp698ent.stf was not needed, from what I recall.